BGaming Blackjack Multihand Pro Review – A Look at the Game
Coming to the online gaming world in 2018, this multihand version of blackjack from the BGaming brand presents something altogether unique for you to experience. While maintaining the same high level of graphics that the developer is known for, Blackjack Multihand Pro by BGaming also has an increased payout ratio and one of the lowest house edges in play. And it comes with a special bonus bet for you to utilize if you so wish, too.
What Is the Best Place to Play BGaming Blackjack Multihand Pro Online?
The BGaming brand has its games included in the lobbies of multiple online casinos. Yet there is one that we recommend over all others as being the best location to play this version of blackjack at – BGO Casino.
| Casino | BGaming Pontoon | BGaming Games | Live Dealer | Bonus* | Visit |
| --- | --- | --- | --- | --- | --- |
| | YES | YES | YES | $300 | Play |
| | YES | YES | YES | $1750 | Play |
BGaming Blackjack Multihand Pro Rules – The Basics
Originating from the Las Vegas Strip set of rules that were popular in the 1970s, this variation of the game still requires you to try and reach as close to 21 with your cards without going bust. This game features six decks of 52 cards and these cards are shuffled following each round played.
Jacks, Queens and Kings are all worth 10 points, while the numbered cards are all worth face value. The ace is counted as 1 or 11 in the game. Obtaining a blackjack comes from your initial two cards being an ace and a 10-value card.
You have the ability to bet on up to three hands when playing BGaming Blackjack Multihand Pro online. You are also able to place a bonus bet in the initial wagering stage, which we'll get to a bit later on in the review. From this, you can win up to 100x your stake! This bonus bet is checked prior to any further gameplay taking place.
BGaming Blackjack Multihand Pro Review of Gameplay
You'll want to know how this game plays out if you intend to access it yourself, right? Well, that's what we're here for. First of all, when you load this game up, you'll see that all the chips for betting run along the bottom of the screen. You can choose from chips of the following values: 1, 5, 10, 25 and 100. The BGaming Blackjack Multihand Pro rules dictate that a minimum bet of 1 coin must be placed and a maximum of 100 coins can be brought into play per round.
You need to place a bet on at least one of the lower circles on the table before gameplay can commence. If you wish to wager on the bonus bet, then this is the time to do it. We'll explain more about the bonus bet and how it works further along.
Once you are fully satisfied with the wager that you have brought into play, you just need to press on the Deal button to the right-hand side. This will deal two cards face-up to each of the positions you have wagered on and two cards to the dealer – one face-down and one face-up.
After the cards have been dealt, it is up to you how you proceed with gameplay. You will either need to hit or stand with the card total. Using the hit option will deal more cards out to your hand, and you can continue doing this until you reach a satisfactory total or until you go beyond 21 and, as a result, go bust. Standing will keep your card total as it is and progress the game forward.
If you have been dealt a total of 9, 10 or 11 from your first two cards, then you will also be offered the opportunity to proceed with a Double function. This doubles up your bet on the hand and adds a single extra card to the total for you.
You may also be offered the opportunity to use the Split function, should your first two cards be of the same value once dealt. If you do go ahead with this, then the cards will be split into two separate hands and an extra bet will be brought into play that is equal to your initial wager. You can then proceed with drawing cards for the first split hand. It is important to note that when you split a pair of aces, you can draw just one additional card to your total.
Upon completion of your turn on Blackjack Multihand Pro by BGaming, it passes over to the dealer's hand. The dealer will always stand on 17, including soft 17. The round ends once the dealer has finished, and the cards are compared. The winning hand is the one closest to 21 and any time a blackjack is in play, it will automatically beat all others.
You can then choose to use the Rebet button, which will place the same bets for you in the next round. Alternatively, you can use the New Bets button to place new wagers.
The RTP and Payouts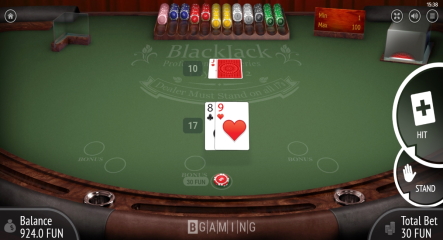 This game comes with an RTP rate of around 99.4% included in it, so you can expect to receive a good amount of money back from it over time. This low house edge certainly helps it to stand out, catering to inexperienced players as well as the more seasoned gamers.
If you manage to secure the winning hand in this game, then you will receive a payout of 1:1 for it. Holding a blackjack hand will reward you with a 3:2 payout, and any time you experience a tie outcome, then you receive your stake for that hand back. These are quite standard payouts for blackjack. As we found out while creating the BGaming Blackjack Multihand Pro review, though, you can get even more from the bonus bet.
Does Blackjack Multihand Pro by BGaming Have Any Special Features?
The special addition to this version of blackjack is the Bonus Bet function. You need to use this when you're placing your initial bet(s) as it is based on the outcome of your first two cards dealt. This bet cannot be altered or withdrawn after the first card is dealt, and it serves as a nice side bet. Once the cards have been dealt, the game automatically checks for the Bonus Bet. This wins if the first card in your hand is a jack or if the first two cards are both jacks. This side bet pays out in the following way:
First 2 Cards
2 Jacks of Spades
Pair of Jacks
First card is a Jack
Payout
101x stake
26x stake
11x stake
Anything other than the above possibilities appearing in your first two cards will see the funds applied to the bonus bet lost.
Conclusion – Is BGaming Blackjack Multihand Pro Online a Good Game?
We happen to quite enjoy this game from BGaming. It's nice to see a card game like this with an extra special feature involved in gameplay. Potentially if you're a player who wants a bit more of a challenge from blackjack, then this is an option to go for. It loses nothing where the graphics and smoothness of gameplay are concerned but gains from having more features for you to utilize during it.
Other BGaming Games